CROSSROADS exists due to the generosity of others!
Services Overview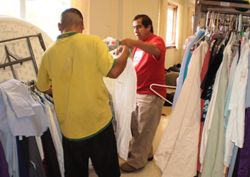 While clients enjoy the respite and wellness this retreat from the streets provides, breakfast and lunch are served, along with generous portions of friendship.
Separate showering facilities are offered for women, men, and families.  Volunteers launder and fold clothes while clients take part in meals, hairdressing services, needs assessments, social services referrals, health screenings, and other supportive interactions.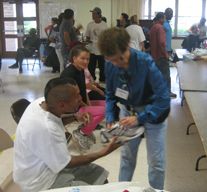 Personal hygiene, bodily comfort, and an associated self-confidence, are basic aspects of human dignity that should be afforded to all persons.  CROSSROADS AT PARK PLACE provides dignity, and the associated wellness that stems from cleanliness, to those whose condition as homeless prevents these basic needs from being met.
CROSSROADS is open each Tuesday and Thursday from 7:00 a.m. to 12:00 p.m.